1. General Planning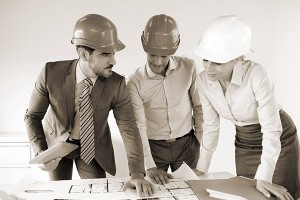 General planning is successful when your goals have been met. To meet these goals, an architectural concept is designed by the engineers and architects at Covenant Engineering GmbH with support from specialist partners in various partner firms during the design stage. In difficult planning situations, we seek the advice of appropriate specialists so that we can best help you meet your goals. It is this collaboration that creates a general plan precisely matched to your goals on all points.
In addition, we, of course, provide support you during the bidding process, whether you're looking for a general contractor or several individual trades and companies, and we always negotiate with the selected partner companies with your best interests in mind. This includes review and advice on the cost proposals you receive and review of the bills you subsequently receive.
During the actual construction phase, Covenant Engineering GmbH will handle the technical and actual management of the construction, monitor subcontractors from both a technical and business perspective, and then inspect and accept their work upon delivery. Our experience in construction and project management enables us to keep an eye on every aspect of your project. If necessary, we will also monitor any remedial work or improvements required if any defects should occur during inspection.
1.1 Determining the planning principles
We work with you to determine the planning principles according to your needs. We first clarify the current status of your building project and can arrange an on-site inspection and analysis, depending on the level of service you request. This step is essential especially for industrial and commercial buildings.
1.2 Preliminary design including initial calculations
As a rule, we first create a rough outline of the plan, which will already include a rough cost calculation. The gross floor space and the standard for the fittings will be determined at this phase so that you can get a rough idea already at this early project phase.
1.3 Design planning and exact cost calculations
The preliminary design is then used to make architectural drawings of your building project which are thoroughly checked by our experts and negotiated with building authorities and professional planners. The resulting refined cost calculations are then used to modify the rough calculations previously made and serve as the first benchmark in our project management process.
1.4 The approval process
The plans created to this point are everything you need to apply for planning permission and we will even submit these documents to the planning authorities on your behalf, if you wish. Depending on the nature and size of your project, at least an architect, a structural engineer and, of course, a professional planner for the building systems are needed to ensure rapid approval of your building project. Additional qualified personnel for the groundwork, sound or heat insulation, fire protection and landscaping will also be hired by us, depending on the project. Industrial and commercial construction projects have especially high standards for these issues which we know how to meet quickly and effectively from our experience in construction management.
1.5 The detailed design
Based on the documents created for the approval process, we then create a detailed design on a larger scale that allows us to plan and record every detail of your construction project. This plan will include all of the dimensions and tolerances required, provides an overview of the required materials, their nature and quality, and, of course, all of the instructions required by the trades.
1.6 Preparation and conduct of the bidding process
To tender bids from companies for your building project, as the project managers we will create a detailed RFQ which will not only contain the specifications, but also any additional agreements that are crucial to signing a contract. We will explain the bids submitted by general contractors and the trades and review them for their plausibility and economy.
1.7 Construction and site supervision
We will regularly check your building project during the construction phase. We will pay particular attention to whether the construction is being done according to the specifications and detailed designs. This aspect of construction management is essential for construction projects of all sizes, whether major industrial and commercial structures or private homes. After the building inspectors give their approval, you will receive from us extensive documentation of our work managing your construction project. In addition, we will also handle having contractors remedy defects that we have identified in the parts of the project already completed within the limitation periods of their contractual warranties.